OUR PLAN
The current Covid-19 pandemic may have you wondering if it is safe to send your child to our facility for care. Here are some of the methods we use to enhance our health and safety protocols during this time.
The following items are an abbreviated list of our safety procedures. Please remember these guidelines are to protect your children, our staff, and the community and may change at our discretion.
THERMAL SCAN, FACE MASKS & HAND SANITIZER: All persons entering the academy must have a thermal scan at the entry door, wear a face mask and must use hand sanitizer upon entering.
HEALTH SCREENING: All children and staff will have a health screening prior to entering the building and their temperature will be taken throughout the day.
SOCIAL DISTANCING: Only one family will be permitted in the lobby at a time. Please wait in the designated spot and maintain 6-feet of social distancing.
SYMPTOMATIC EXCLUSION: Anyone with a fever, cough, sore throat or flu-like symptoms will not be permitted to enter the building.
DROP OFF HOURS: Will now be from 8:30 A.M. – 9:00 A.M. After the daily health screening, staff will safely escort your child(ren) to their classroom.
PICK UP HOURS: will now be from 2:45 P.M. – 3:00 P.M. Upon arrival, a staff member will bring your child(ren) to you.
CLASSROOM STABILITY: Your child's classroom will be stable in that the same group of children and teachers will be together each day.
FACEMASKS/SHIELDS FOR KIDS: We have purchased face masks and shields for children. Each teacher will be required to wear them all day.
STAFF PREPAREDNESS: Staff have been educated on the Covid-19 symptoms as well as preventive measures to ward off the spread of the virus.
Our procedures are subject to change based on the advice of the CDC, Department of Public Health, and World Health Organization.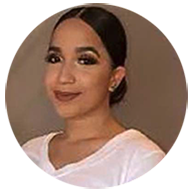 FRANCHESKA SERRANO
MANAGER HEALTH AND SAFETY
or call us at 215-425-7800