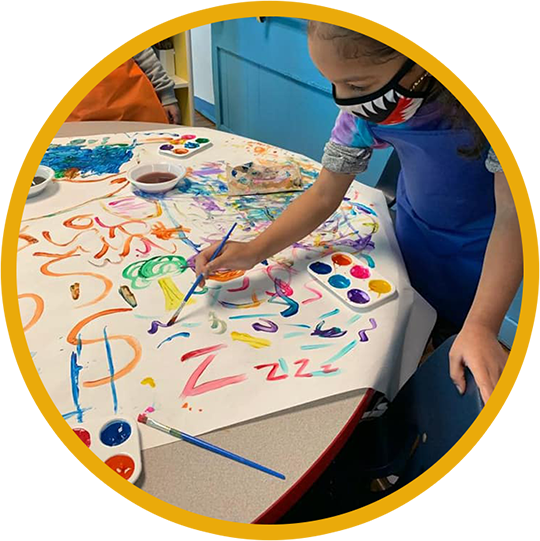 WHY IS A 4 STAR KEYSTONE RATING IMPORTANT?
The Lighthouse is a Keystone 4-STAR childcare facility! Keystone STARS (Standards, Training/Professional Development, Assistance, Resources, and Supports) is a quality rating system that promotes quality improvement in early learning and development programs and school-aged childcare. A Keystone STARS designation informs parents that their children are in a safe, respectful environment in which they are learning new things every day to support their current and future successes in school and life.
High-quality early learning programs will offer your child a stimulating, nurturing environment, which prepare them for school to reach their full potential. Quality environments provide a stimulating, loving atmosphere in which children thrive. The Performance Standards for Keystone STARS quality-rated providers are guided by the principle that quality early learning programs are the foundation for children's success, and an investment in the early care and education of Pennsylvania's children is an investment in the future.
IMPORTANT INFORMATION
Our childcare programs operate on a weekly billing schedule.
Payments are due in full each week in advance of the upcoming week of program.
We accept money orders, credit/debit cards and PayPal.
If payments become 14 days overdue, a late fee of $25 will be assessed. The child may be removed from the program until past due balance paid. Their spot will not be reserved if removed due to overdue payment. Re-enrollment is subject to availability.
Weekly enrollment rates are based upon 180 days of school and divided into equal weekly payments. There is no prorated fee for weeks including in-service days/holidays where there is no school. You will not be billed for school vacation weeks.
The weekly payment is based on enrollment and not the child's actual attendance.
Your child may only attend on enrolled days. Absences will not be credited. No credit will be given for emergency or weather-related cancellation days. No credit will be given if your child is unable to attend due to quarantine or COVID-19 testing requirements outlined in our COVID-19 child screening policy. We are committed to providing, support so that all children can be successful in our program.
Professional and qualified staff provide constant supervision, follows a developmentally appropriate curriculum, offers fun activities, and supplies a healthy nutritious snack.
RATES: PRIVATE PAY
AGES SERVED
FULL-TIME
PART-TIME
Pre-school (3 yrs old by Sept. 1 - Entering K)
$45 per day
$30 per day
WE ACCEPT THE FOLLOWING CHILDCARE SUBSIDIES
ELRC (Early Learning Resource Center) formerly known as CCIS
Child Welfare Agency / DHS Participation
Child Care Works / Subsidy
FOR MORE INFORMATION OR TO ENROLL
Please contact us or call to speak to anyone of our Family Advocates at 215-425-7800